The holiday season has jumped upon us and Christmas is almost here!  It feels like yesterday when we were getting ready to celebrate the arrival of 2012 and now we have less than 2 week to figure out what to wear for NYE13. So while we pick and choose our party outfits we can't forget that with every holiday party comes the famous white elephant gift exchange.  Check out our top 12 picks on how to give a cool gift that everyone will talk about and even fight over at all of your holiday parties!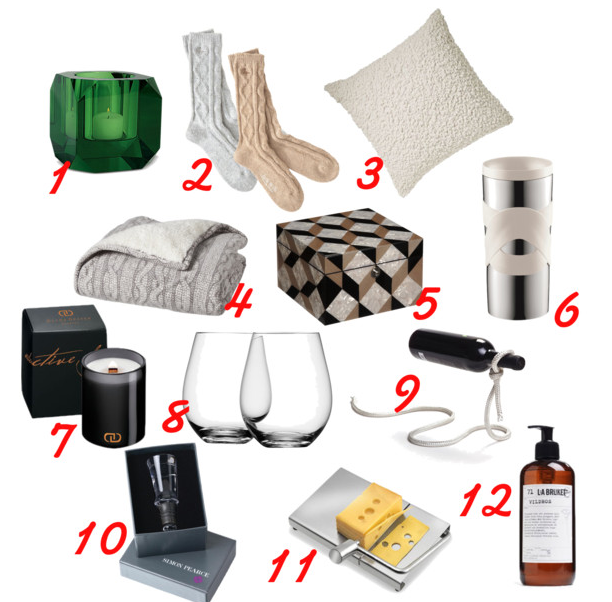 1. Seletti Crystal square tealight holder – $56 forzieri.com
2. Lulworth Socks – $30 each jackwills.com
3. Cozy Pillow Cover – $34 westelm.com
4. Threshold Sherpa Throw – $35 target.com
5. Ercolano Optical Illusion Box – $465 barneys.com
6. Travel Mug Rejsekrus Med – $40 bodum.com
7. DayNa Decker Les Emotions Candel – $55 blisshomeanddesing.com
8. LSA Wine Stemless Red Wine Glass, set of 4 – $43 amara.co.uk
9. Monkey Business – Lasso Bottle holder – $32 connox.com
10. Simon Pearce Ascutney Wine Stopper – $70 simonpearce.com
11. Blomus Froma Cheese Cutter – $32 plushpod.com
12. L:A Bruket Liquid Soap: Wild Rose – $29 frenchtrotters.fr
Happy Holidays! And check out all of our style reviews and sexy lists!
Be Yourself. Be Fearless. Be Your Own Unexpected Luxury!
Please Follow Us: