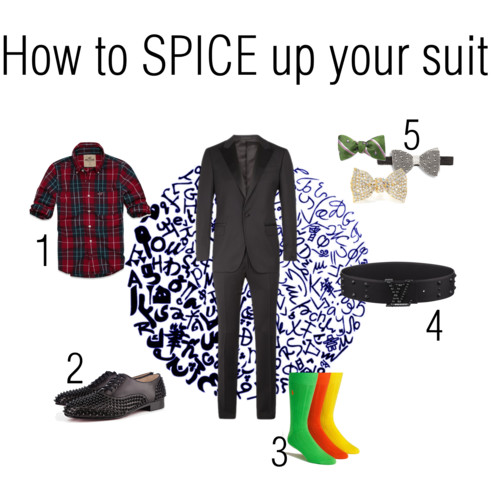 Most men, know how to put a suit together.  We get it tailored, match it with a great shirt, tie, belt, shoes…the works.  But do we know to add some spice to it to make our own creative style stand out from the rest? When does it become too much or not enough?  The idea of spicing your suit up is focused around what you wear it with, not necessary the suit itself.  Lately, there are a lot of bright colored suits or busy prints – completely missing the point of why you're dressing up in the first place. You don't' want it to be about the suit, you want it to be about you in the suit.  These are some of the ways we would do it…but not all at once! Remember these are meant to be ways to quietly be noticed, loudly whispered about, and above all, subtly desired.
 The magic of plaid is incredible and undeniable.  The understated, yet overly used, print is a great way to update your formal look.  It allows you to be playful, comfortable, and yet still appropriate for any formal occasion. Throw on a solid tie that matches the highlighted colors of the suit and you're ready to go.
Anyone that understands style knows that shoes are what bring the look together.  If you go all out on a suit, shirt, tie, please make sure you don't forget the shoes! Don't mess it up by wearing some funky old shoes that should have been thrown away years ago.  Grab a pair of studded Christian Louboutins and show everyone that not only you know how to kiss French, but you also dress French. If you don't have the money for a pair of men's Louboutins, at least spice it up with a pair of formal shoes that speaks of your individual style.
A good, subtle way to have fun with a formal suit is picking a fun pair of socks.  Grab a pair of bright colored ones that match your shirt and tie.  This way, every time you sit down you tease your onlookers with a flash of color that showcases your fun personality.
The whimsical touch of the classic bow tie has hit pop culture and modernized it to its fullest.  Today, all kinds of men wear them.  They come in pretty much every color and any print and fabric so how do you really make this bow tie your bow tie? This I leave to you. Have fun with it.  Shop around until you find a tie that speaks of you and your individual style.  Take the time to learn how to tie a bow tie. Instructional videos can be found on YouTube.  No matter how over played the bow tie seems at times, no one can deny an authentic, vintage hand tied, bow tie; especially in a tux!
When all fails, grab a good designer belt.  The staple piece not only will bring attention to your high taste in fashion but also be a great conversation starter.  A strong Gucci or Louis Vuitton belt with a classic suit will not display garish style but will let onlookers know you care enough to notice the small details.
Remember that these 5 style tips aren't really meant to be worn together, but separate to really highlight your sense of personal style.  The true art of a good suit is to make the man stand out from the rest without his masculinity being in question.   If you just can't bring yourself to try something different, always remember this: tailor your suit.  It's the best investment men can make when it comes to formal wear!
Ideal places to shop for these items: Nordstrom Rack, Nordstrom, Saks Fifth Avenue, Farfetch.com, Prada, and Macys.
And always remember…
Be Yourself.  Be Fearless.  Be Your Own Unexpected Luxury!
Please check out our other style articles and daily looks in our Style section!
Please Follow Us: