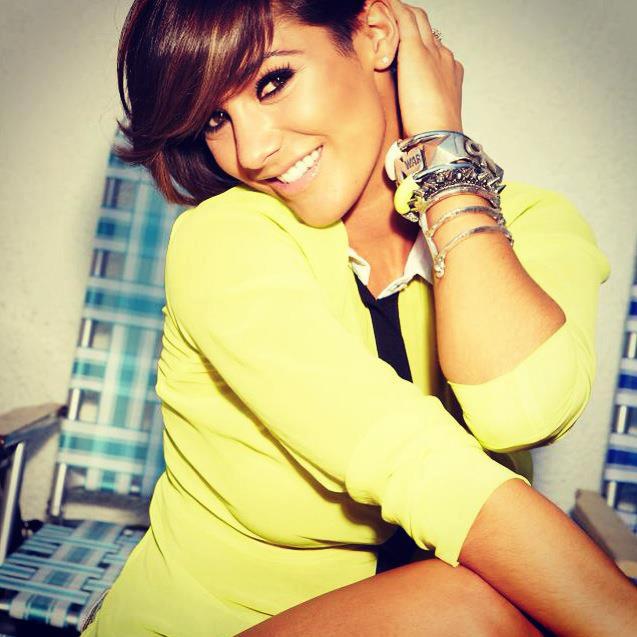 Before Chasing the Saturdays aired on E!, we had never heard of Frankie Sandford.  We had somehow completely missed out on the phenomenon that is The Saturdays, what some might consider this generation's Spice Girls, before their show began airing in the United States.  As soon as we began watching Chasing the Saturdays, the reality show following their crossover from the United Kingdom to the United States, we fell in love with these girls. Mollie wowed us with her blonde locks and upbeat personality.  Una tantalized us with her beautiful family and super, sexy, red hair.  Vanessa enticed us with her incredible voice and hilarious sense of humor.  Rochelle rocked and intrigued us with her intense body and incredible voice.  And then of course there was Frankie! We instantly became obsessed with her great sense of style, amazing voice and unique personality, making her an instant fan favorite! Check out what she told us about living life in the spotlight and life behind the scenes of what is sure to be one of the greatest girl groups of all time!

1. Introduce yourself in 7 words or less.
That's an easy one actually, most people call me "sunshine and showers" because I'm either really upbeat or quite introspective.
2. How were you introduced to the music industry?
Myself and Rochelle were actually in a band together from the age of 12 called S Club Juniors, so I've been in this industry awhile.
3. How do you think music has changed throughout your career?
Music has changed quite a few times during my career. Pop was massive at the start then went away for a while and was replaced by R&B. SO happy that pop seems to be back once again.
4. Tell us about your experience filming Chasing the Saturdays?
It was surreal. We've filmed 2 reality shows back in the UK before, but we've never had such a massive crew before. Luckily they were all lovely and became our LA family. We often forgot they were even there, which means we're a bit scared to watch the show back!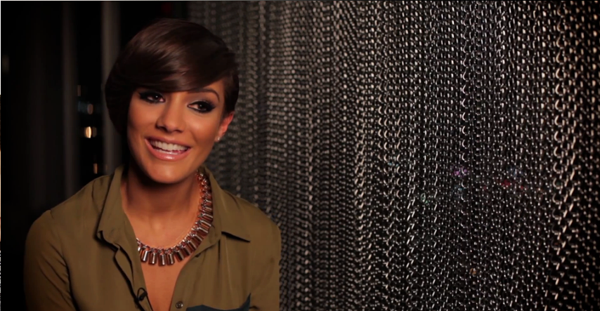 5. As a musical group, do you ever disagree on creative ideas?
We're 5 girls so of course we all have our own opinions on styling, videos, artwork, music – pretty much everything! But I think it really helps – everyone has great ideas so it's always a discussion, not a disagreement.
6. What's your favorite thing about each girl on the group?
I love how optimistic Mollie is, she keeps everyone upbeat. Rochelle is the band's big sister and is always on hand to give advice. Vanessa is such a laugh, if you're looking for a party, she's your girl. Una knows a little bit about EVERYTHING!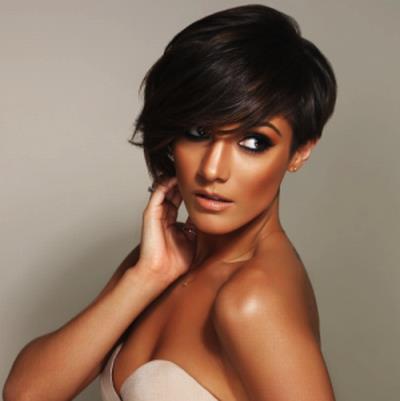 7. What are some creative things you do to keep your songwriting fresh and interesting?
We are lucky enough to write with different songwriters across different genres, so we bounce off with each other which always keeps things fresh.
8. Who are the three biggest musical inspirations and why?
I love Taylor Swift, Michelle Branch and Vanessa Carlton
9. If you could work with any musician, dead or alive, who would it be and why?
It would be amazing to collaborate with Rihanna.
10. How do you define sexy?
Sexy is being confident in your own skin.
11. What do you think is the sexiest City? Hotel? Club? Store? Musical artist? Place to Kiss?
I think Paris is the ultimate sexy city, even if it's cliché. Rihanna is the sexiest woman in music – she's fearless. Zara is a great shop for affordable, sexy clothes. they do the best fitting blazers.
12. Who is your favorite designer and what is your signature perfume?
Rachel Gilbert as I've worn one of her dresses for pretty much every red carpet we've done. Bvlgari its just a fresh clean smell not too over powering.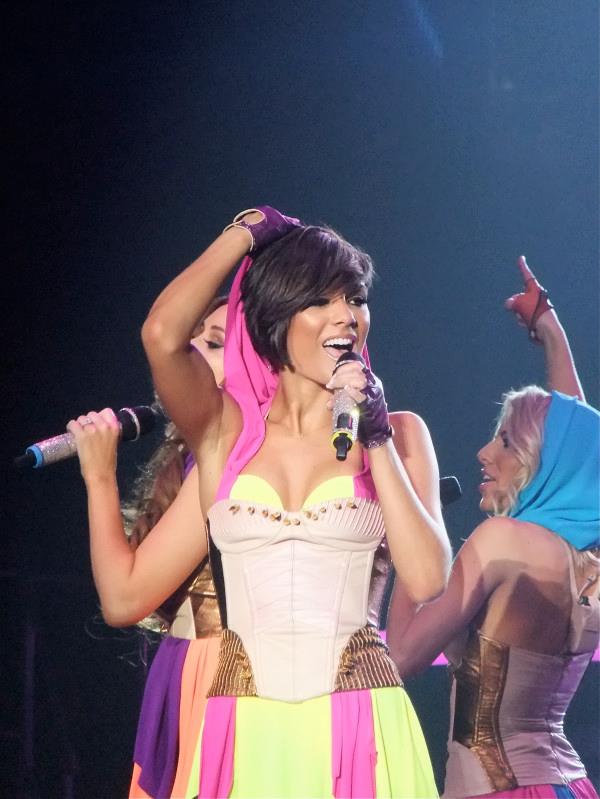 13. What advice would you give to an artist trying to make it in the industry?
Practice, practice, practice. Get out there and do as many shows as you can, whether it's in front of 5 or 500 people.
14. What's next for Frankie Sandford?
Things have been going well in America so far, so we hope to go back there this year. We will also hopefully be going to Europe and Australia for promo, which would be awesome
15. What are your three simple luxuries?
A Sunday roast in a local pub, quality time with my family and friends, and staying at home with the dogs in front of the fire!
For more celebrity interviews, check out our Interview section!
Please follow us for up to the minute celebrity, style and music news!
WARNING: We allow 100 words or less of content per interview to be taken and used, with a link to our original interview, without our authorization. Content larger than 100 words or copying our entire interview without our authorization to be used in ANY manner will result in our taking legal action per copyright infringement.