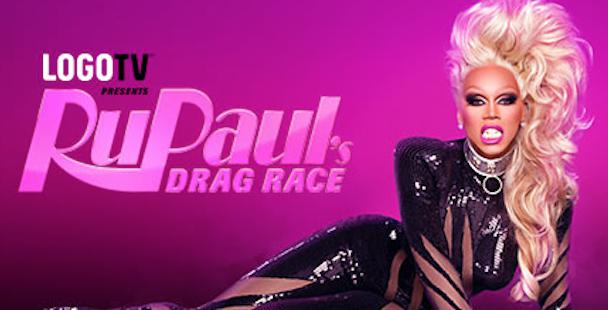 For weeks we've been writing about marriage equality and political unrest in the world, and while all of that is extremely important to us, we've neglected to comment openly on our daily medicine.  We're sure many of our readers, like ourselves, have daily crap filling their lives: drama with friends, running errands, taking the kids here and there, financial problems, medical problems, on and on and on.  While driving around today, running errands, thinking about all of the things that were stressing us out, we remembered;  tonight is the premiere of LOGO TV's 6th Season of RuPaul's Drag Race.
We are huge Drag Race fan and have diligently watched every episode and every season…at least twice! We have interviewed almost every contestant and winner on raannt as well as having posted weekly commentary.  In the simplest of terms, we are obsessed! While driving and thinking about this, we conjured up a dream of cooking up a huge pot of chili, sitting back with the dogs and watching RuPaul's Drag Race tonight.  Instantly, our stress disappeared and we were at ease.  All because of our dream of sitting in front of the television watching some incredible drag queens.  You see, life is really that simple.
We spend many nights on our couch or in our bed watching our favorite shows, indirectly interacting with our "reality friends"; Shahs of Sunset, Couples Therapy, Mob Wives, Keeping Up With the Kardashians, RuPauls Drag Race, Kim of Queens, Catfish, Dance Moms…on and on and on! We're total freaks for the real! So we thought, why not write them a letter and let them know how much we appreciate them.  Stupid? Maybe…but real fans write fan letters…and we're SUPERFANS! So here it is...
Dear RuPaul and your girls, Big Ang, Renee, Drita and the other Mob Wives, Reza, Mike, GG, Asa, MJ and Lilly of Shahs of Sunset, Abby Lee Miller, her girls and especially the MOM's, who we love dearly, Kim of Queens(Adore her!), the Chicago folks of 100 Days of Summer(family love Jay!), the kids on American Idol, Tim Gunn, Nina Garcia, the judges and designers on Project Runway, Lisa Vanderpump and your gals and crew, Theresa the Long Island Medium and your family, the amazing fashionistas on Million Dollar Shopper, the kids on Houston Beauty and Ms. J, the Hollywood Hillbillies and the Angry Ginger, Nev and Max from Catfish, Kim and her crew from LA Hair, Tyra, Jeff from Survivor, every housemate from Big Brother EVER, the entire cast of #RichKids of Beverly Hills +E.J., every 5 guy and a girl…and of course, Honey Boo Boo…
THANK YOU!
You have relaxed our minds, initiated amazing dinner conversations, given us something to look forward to and supplied a daily dose of the most wonderful medicine into our stressed out minds! While many people may knock you for putting your lives out there and call what you're doing trivial, we applaud you and thank you for allowing us into your lives so that we can forget ours for a few moments, laugh and continue with our days!
We work, exercise, read, write and continue to grow, but it just doesn't seem enough until we turn on the tube and see one of your faces.  Your turmoil is our turmoil.  Your joy is our joy.  Your successes…well, we don't own those, but sometimes it feels as if we do! And for all of that, we love you!
And we think we should be your best gay friends!
Much love, 
Your superfans, 
Peter and Alex
Please follow us for the best in reality tv updates!