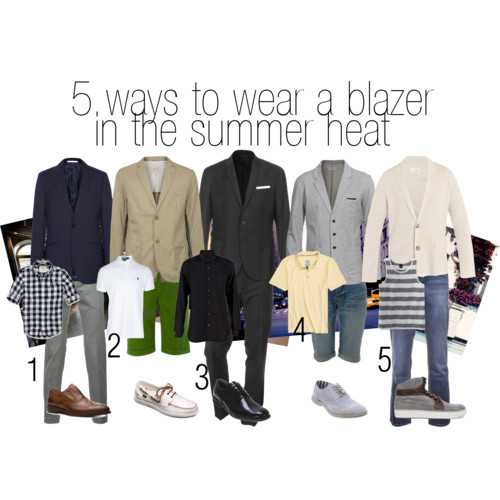 Men have a tendency to think that dressing up for an occasion is simple and that anything will fit the occasion.  Simply throw on a jacket, button down collar shirt and a pair of loafers and call it a day.  While that may be good enough for your nephew's graduation, it isn't necessarily fashionable.   During the summer heat, men find it a bit changeling to keep up with current trends and still make an impression, so here are five simple ways to put together an impressionable summer outfit that is current in trend.
1. Mix-and-Match – The ever so classic technique of mixing and matching the items in your closet would be the perfect way to start.  Grab your favorite pair of dress chinos(grey is usually a safe choice)pair it with a plaid shirt and throw on a navy blue blazer.  The plaid shirt will add contrast and texture to your ensemble, making it fresh and current.  Forget the socks with this one.  Roll up the cuffs of your pants and you'll add a bit of flair to the whole look.
2. Captain 2012 – Mix the colors up with this look.  Don't be afraid to pick bright and bold colors.  The age friendly boat look is perfect for a day at the beach, a quick stop at the office, or a late lunch date.  What really makes this look a boat look, aside from the light color blazer, is the shoes – classic boat shoes.
3. Black on Black – Summer is filled with weddings and events, so invest on a nice, fitted tailored suit.  You can pair it with any color dress shirt if you feel like adding color, but for a summer night event stick with black.  This clean cool style adds a bit of mystery to your whole persona and with a bit of confidence you may leave the event with a new number… or several.
4. Polished Hipster – This combination of items allows you to play with what you have and with what you would like to shop for.  A pair of fitted jean shorts paired with a clean cut polo is perfect for comfort.  Throw on a dark colored blazer and some oxford wingtip shoes and this looks becomes ideal for a summer night party or even a first date.  Remember to play with colors you enjoy and feel comfortable in, especially since this look is different and probably outside your comfort zone.
5. Jeans and a B – Guys can always rely on a good pair of jeans and a comfortable blazer – you can wear it to pretty much anything at any time of the year.  During the summer try to pair this combination with something unconventional from your closet, like a fitted v-neck tee or a baggy tank.  This unusual combination will update your look and allow you to have fun trying something new and different.  Throw on a pair of high top shoes to really funk up the look.
Favorite places to shop for these looks would be Nordstrom Rack, Urban Outfitters, Farfetch.com, Saks Fifth Avenue, and Pac Sun.
Be Yourself.  Be Fearless.  Be Your Own Unexpected Luxury.
Check out all of our style advice, daily looks and fashion interviews in our Style section. 
Please Follow Us: