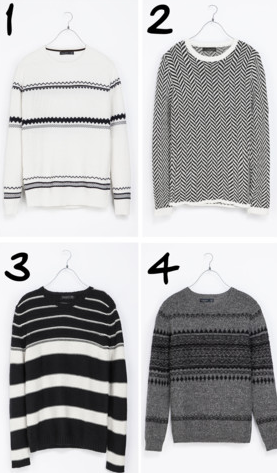 The constantly changing fall weather can make anyone go a little crazy.  Getting ready in the morning is like getting ready for some mild winter and once the afternoon heat hits, it feels like an early hot summer day. The challenge is to play with different forms of styles, while keeping things masculine and on trend, meaning lots of textures and prints! ZARA has a series of sweaters that play up both aspects of this current fall trend and they're light enough you can wear it as a sweater-shirt or layer it for cooler days. All for just $69.90 Check out our top 4 faves:
2. Geometric Herringbone Sweater
Check back for more daily style reports in our Style section!
Please follow us!