After the past few cold, dark, windy, winter months the warm spring weather couldn't arrive any sooner, bringing with it a fresh sense of style and colors and of course new items for your closet! Ecco has a pretty sweet line of formal wear that really could be dressed up or down. Their distinctive take on classics and staple pieces mixed with modern and trendy textiles have made their shoes a hit season after season.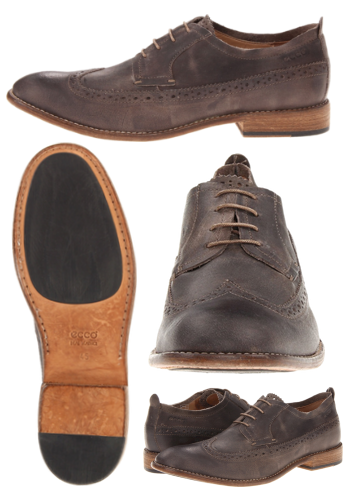 For this Wingtips Wednesday check out eccos Portisco Oxford Shoe.  The vintage, slightly used finish to the leather gives this shoe an academic personality while the mud brown color adds ruggedness to its overall look.  This shoe is perfect for spring and summer, whether you wear it with tailored fitted chinos or colorful shorts!
Check out all of our other wingtips in our Shoes section! And check back daily for style reviews and looks of the day in our Style section!
Please Follow Us: