We ran into this guy in a cigar bar, vaping on this amazing scent.  He told us it was Five Pawns Castle Rock.  We ran out the the next day and bought two bottles, instantly obsessed.  Days later, Castle Rock went on back order and will be back for purchase soon!
Five Pawns Signature Vapor Liquid is hands down…the most incredible vapor liquid in the world.  Although we've only used Castle Rock(we'd like to try all of the flavors!), we're so convinced that they're the best! From their cool packaging to their delectable recipes, we can't imagine anything else.  This is not your run of the mill "apple" or "g juice" you buy at the local tobacco shop.  Their flavors are one of a kind!
Castle Long: Our non-barreled aged version is a combination of the dark, refined spirit ofKentucky Bourbon, accented with toasted coconut, roasted almond, Madagascar vanilla bean and laced with a caramelized brown sugar.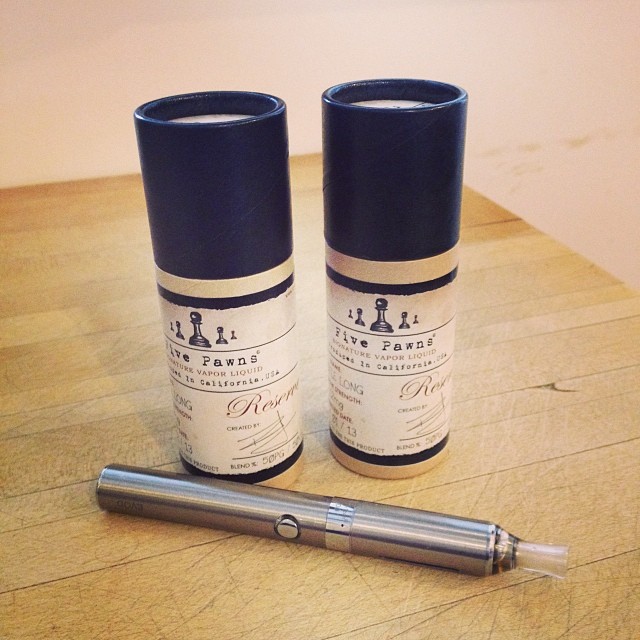 Queenside: Delicate blood orange with creamy French vanilla.  Light yet creamy citrus with a medium bodied throat hit.
Bowden's Mate: Crisp mint with subtle chocolate undertones and a French vanilla finish. Delicate yet soft with a refreshing tingle and medium to full bodied throat hit.
Grandmaster: Smooth creamy peanut butter with banana cream and balanced with velvety caramel. Buttery and smooth with a medium bodied throat hit.
Absolut Pin: Intense complexity of Irish cream, cinnamon spice, and caramel with subtle absinthe undertones.  Lively and with a medium to full bodied throat hit.
Gambit: Sweet and mellow ripe apple with savory pie crust and caramel. Topped off with French Vanilla ice cream and unsweetened whipped cream. Sweet and savory with a medium bodied throat hit.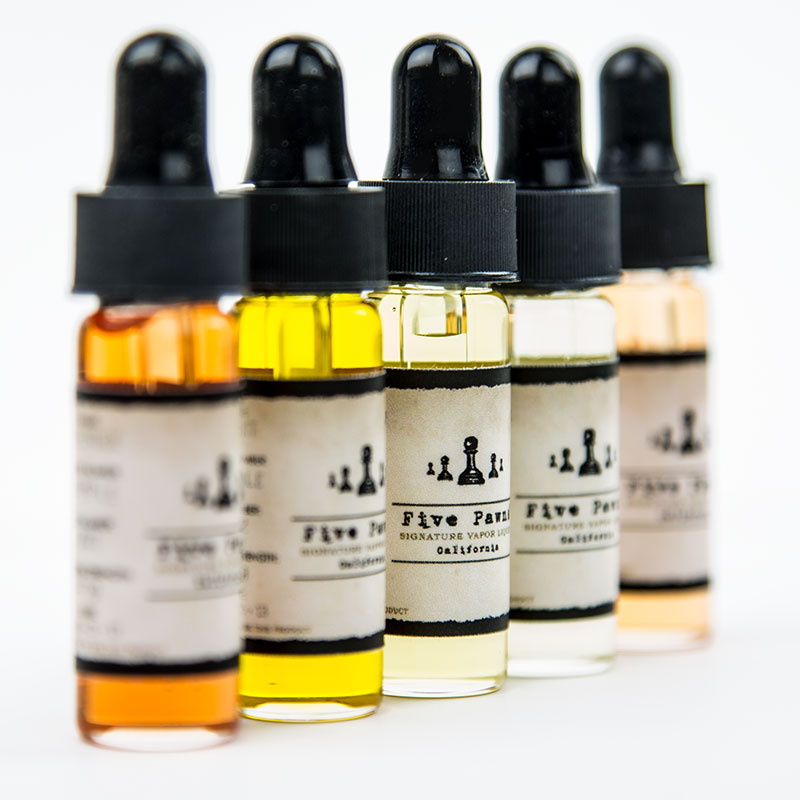 Their sample pack, seen above including the five flavors listed above, retails on their website for $23.50.  An entire 30ml bottle, which to us seems to last forever, retails online for $27.50, which is almost $20 less than what we paid at our local Vapor shop.
Go check out the Five Pawns website, read their story and fall in love! P.S…they also have new flavors coming soon!
Check back tomorrow for our next Sexiest Item of the Day!
Please follow us!